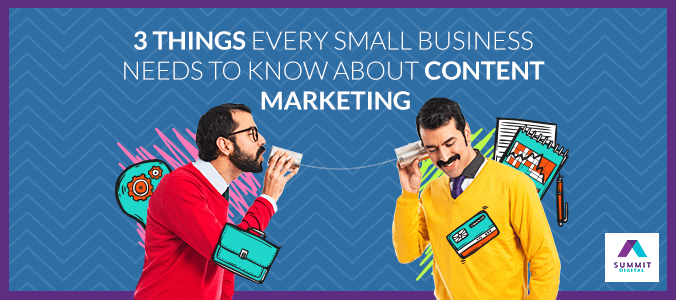 If you have a website and have done any research at all into how to market yourself online, you've heard the buzz word "Content is King!"
But there is so… much… content… about creating content that it's hard to figure out what that fluffy statement even means.
I'm going to boil all that noise down to 3 key points that you need to understand so you can be a trendsetter instead of just a follower.
1: What is content?
I'll start with the basic of all basics in the content marketing space… what is content?
Put simply, content is a conversation you're having with your audience.
Your audience could be:
strangers that have never read anything about your business and have never talked to you before,
prospects or leads that know about you but haven't purchased yet,
your existing customers;
Content marketing is all about using those conversations to generate more conversations. You want more strangers to know about you. You want more strangers to convert into leads or prospects. You want more prospects to turn into customers. And ultimately, you want more customers making repeat purchases and telling more people about you.
2: How do you create good content?
This gets a little tricker. In most cases, your content is distributed in a fairly one-sided way. This blog article that you're reading is a perfect example.
Unlike a typical face-to-face conversation, I'm not sitting right in front of you where I can see your face as you read. I can't see if you're getting bored, or if you're skipping over some of what I say.
I can't see if you look completely confused or if you understand every word. Instead, I have to use some best practices that I know work to help make sure you get what you want out of this content.
I need to write in plain language that's easy to read if you are in a hurry or if you just don't want to deal with big, complicated, technical wording.
I need to use bullets, and white space, and headings, to break up my text into small easy-to-read chunks instead of an exhausting wall of text.
I need to have a grasp of who you might be and what you might be trying to get out of this article so I can speak to your needs and concerns.
3: How do you use that content for marketing?
Remember how I just said that content is a one-sided conversation? To use it for marketing, your goal is to take that conversation and make it two-sided.
You need to find a reason for the reader to take another action because of the content you provided.
Some examples of this would be:
Sharing the content on social media and asking readers to like or leave a comment with their feedback in response to a question you ask about it.
Ask them to leave a comment on your blog if you have commenting enabled.
Give them a reason to reply to the email that you sent to them.
Give them something they can download in exchange for filling out a form with their contact information.
Ask them to contact you.
Just be sure that with that ask, with that next step you are wanting them to take, that it's clear why they should take it and how doing so will be valuable to them as a reader.
So there you have it. 3 basics of content marketing that will get you started on the right path.
If you want help figuring out what content to write, or setting up the technology to do it, then Contact Us.
https://summitdigital.com.au/wp-content/uploads/2018/04/3-Things-Every-Small-Business-Needs-to-Know-About-Content-Marketing.png
300
676
Stephanie
https://summitdigital.com.au/wp-content/uploads/2018/05/logo.png
Stephanie
2018-04-15 07:00:23
2019-08-02 14:06:12
3 Things Every Small Business Needs to Know About Content Marketing